The Radinn Jetboard: Water Sports' Newest Luxury Toy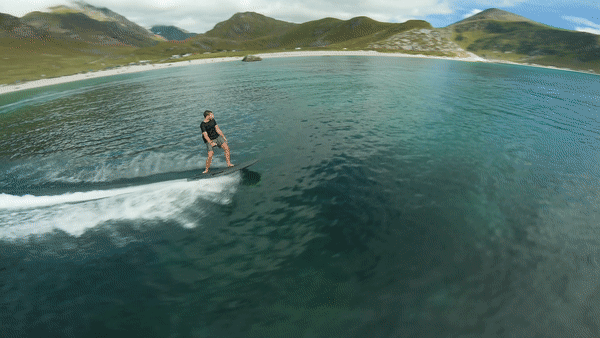 As the world's leading electric jetboard company, Radinn embodies the next-generation of water sports: a completely modular jetboard that lets you soar across the water at incredible speeds. Their boards are the perfect accessory for every kind of cruiser and hobbyist, from Tri-decks yachting the waters of the Caribbean to thrill-seekers in search of their next beachfront adventure.
Radinn started as a student project at Lund University in Sweden in 2013. The idea first stemmed from the desire to make an eco-friendly version of the gas-powered boards that were on the market at the time. The prototype for their electric jetboard was eventually launched in 2015, with their Generation I line following a year later. From there, Radinn went on to become the world's first mass-produced jetboard company, completely disrupting the water sports industry with it's innovative design and technology.
The Radinn is a modular system, consisting of a board, a battery, and a jetpack. All Radinn models fit the same hardware, so customers can own multiple boards without needing to invest in an additional battery and jetpack every time they'd like to discover a new riding experience.
In 2018, Radinn became the first electric jetboard company to completely digitize their product with an integrated IoT platform. Their latest line of jetboards, Generation III, was launched in 2020 and continues to employ this cutting-edge, cloud-based technology. Their boards are powered by a handheld remote that controls your acceleration and speed with effortless maneuverability. A fully-integrated app connects to the board via bluetooth, so riders can track their excursions, download their latest features, and upgrade their performance options, all with the click of a button.
Today, CEO Mathias Bergam runs the company with Carl-Magnus Håkansson as Vice President. In addition to selling boards direct-to-consumer via their online website, they also partner with hundreds of certified retailers across the globe.
Radinn jetboards are 100% electric, virtually silent, and better for the environment than most PWCs on the market. No more disturbing local wildlife—or your beachfront neighbors. With Radinn, the only noise you'll leave behind is the relaxing sound of waves.
For production info and purchasing visit: www.radinn.com.
Connect with Radinn


By ML Staff. Images courtesy of Radinn